22 Aug

Kids First From Day: Life After Clip Charts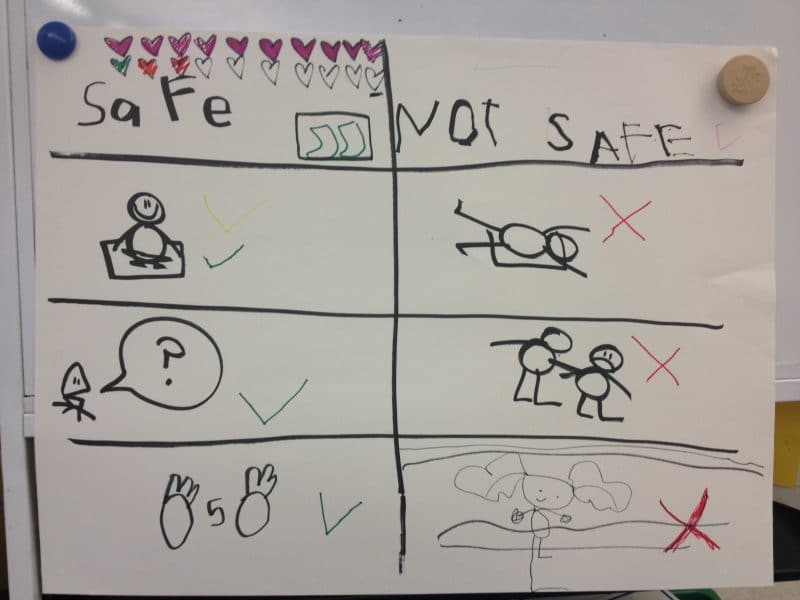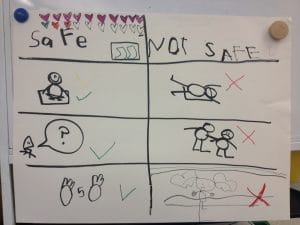 Change is hard. Very hard.
I have had a variation on the same haircut since I was 8. It has gotten longer and it has gotten shorter, but one look at my second grade school picture and you could pick me out by the bangs and middle part.
And that is just hair! Something that can grow back and be restyled and is all in all very adaptable.
Knowing the fear and anxiety and risk inherent in even small changes, makes us all the more speechless and awed by the number of us that have vowed that this is the year of no clip chart, no rewards, no time outs.
The problem with vowing to give up something, as opposed to beginning something, is that there is now a void, an empty space to fill.
We have been there.
When I first got rid of my clip chart, when I encountered difficult moments in the classroom I was still inclined towards threats and punishments. The clip chart might be gone, but I still had the belief system of "Misbehavior is punished, children need rewards to behave." Reading that is sort of horrifying. I am not sure I would have stated it that way, but each time I took away recess, sat a child away from the rug for a break, or gave a marble for a fast clean up I was telegraphing that message.
Practices are easier to change than philosophies.
Saying no to the clip chart, et al, is only the first step.
I recently toured a preschool. I saw a child sitting by themselves in a corner, crying. I ask the director if the child was in time out. The director looked aghast and said, "Oh no! We don't believe in time out. That is the peace chair." I inquired for a little more detail about how it was used, and it was, in fact, essentially a time out chair with a more friendly name.
I tell this story, not to be judgmental (How can I judge when I used "thinking breaks" as a nicer way to say "time out"?) but to illustrate that old habits die hard.
But change is possible! It is slow and hard and involves a lot of backtracking and thinking and honesty. Here is one way to help you through.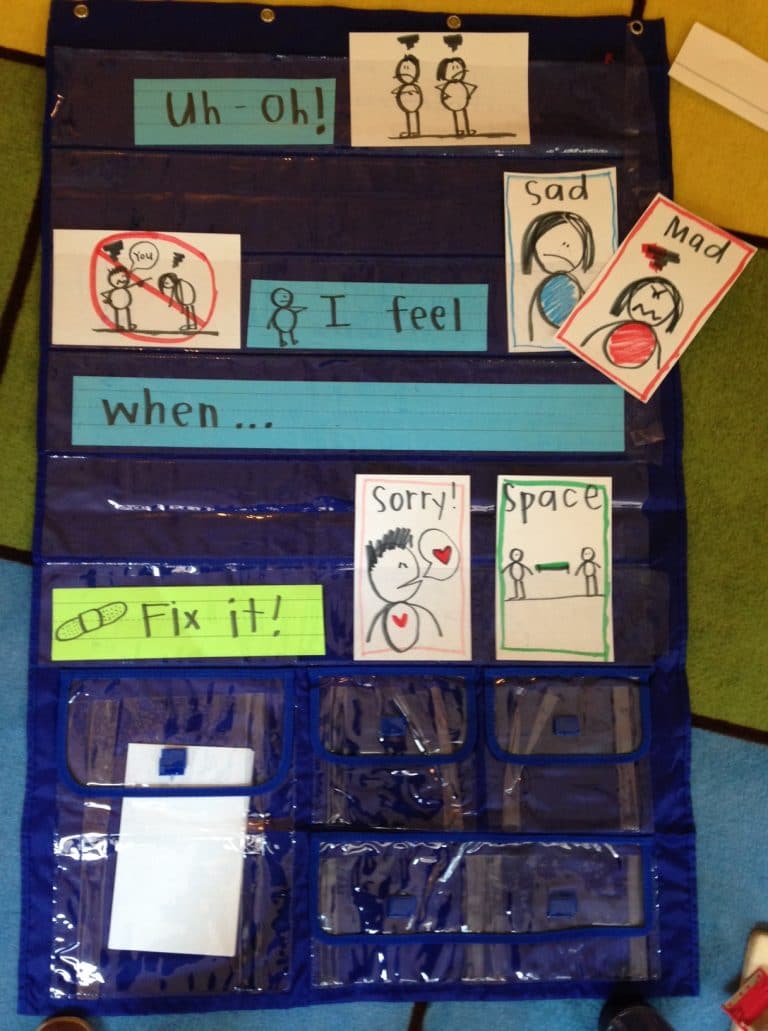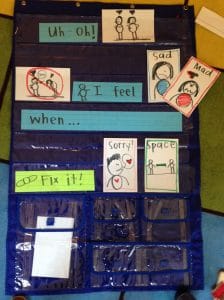 Make a Belief Statement
We need a thesis statement of sorts that can carry us through decisions. Like in healthy living, lots of us try to live by "everything in moderation". We need a strong and clear belief system about kids and our responsibility to care for them in healthy and compassionate ways.
Here is the belief system we have been working off of lately:
All children have the right to be safe (emotionally and physically), to feel valued and valuable, to be treated as capable of contributing to the community, and honored as inherently trying to do their best.
Take ours! Write your own! Revise!
Just know what you believe because that is going to serve as your roadmap.
Be Reflective
Now, turn that thesis statement into inquiry questions. Ask yourself, "How can I ensure each child feels safe (physically and emotionally)? Each child feels valued and valuable? Capable of contributing to our community? How does it impact my classroom practice and language if my default assumption is children are inherently trying to do their best?"
If you are not sure, look to resources: The Whole Brain Child, The Good News About Bad Behavior, How to Talk so Kids Will Listen, The Worry Free Child.
Use these questions to examine practices. Does taking away recess make a child feel safe emotionally? Does this calm down area make children feel valued or like they are being sent away? When I see two children talking, did my redirection assume they were on or off task?
An aside on this last one, when I saw two kids chatting it up during writing, I used to say, "Friends, let's get writing.", assuming they were not on task. Then one student teacher I had was required to tape record a table for the duration of writing workshop. Virtually every comment the children made on the tape was related to writing: how to spell, how to draw, giving more details about the story, asking what a friend was writing. My belief that children were off task was unfounded and my redirection was confusing at best, shaming at worst.
Now, I aim to assume the best intention, "Did you grab that stapler a little harder than you meant to?". "Were you just talking about the best parts of your book?", "I bet you were excited, that's why you started running!"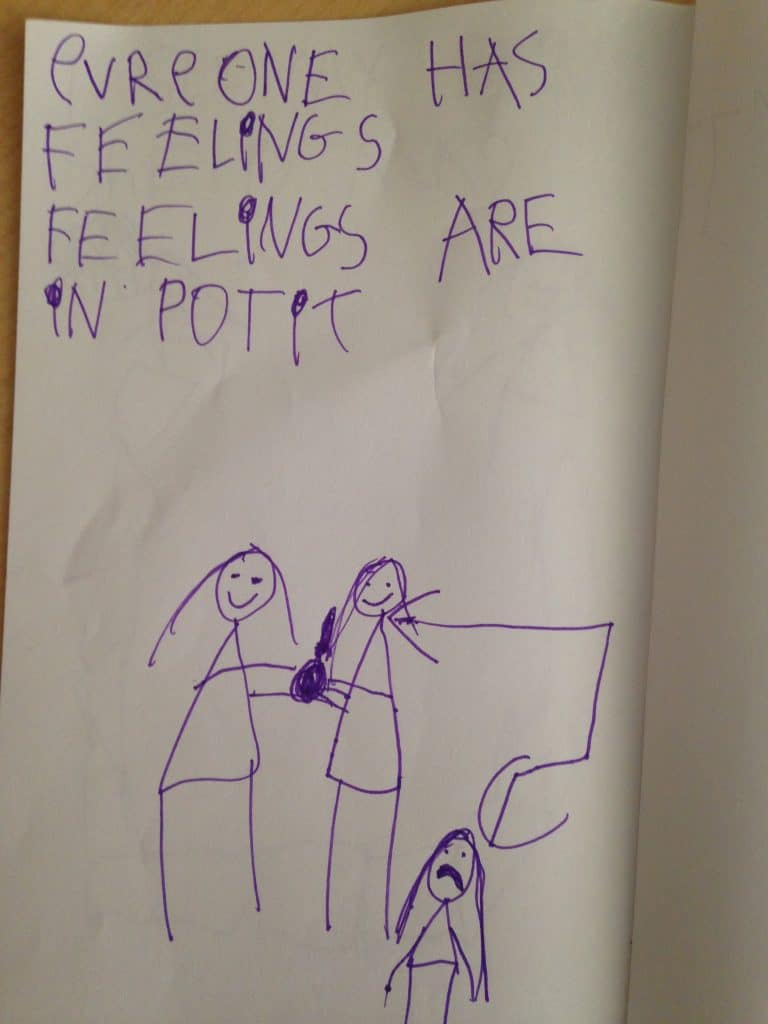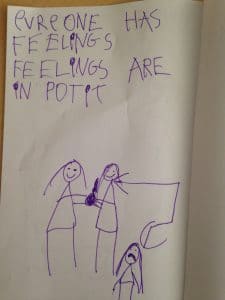 Be Vigilant
This is all well and good for the first week of school. Just like working out and eating healthy and going to bed before ten on school nights.
When we get overworked we can fall back on old habits and old ways. Try to make it a daily habit of reflection on whether you met your thesis statement. Visualize ways you might react differently when you struggled.
Try not to be seduced by the quick fix, and be wary of Pinterest. Peace chairs and calm down areas can easily be treated like time outs. Rewards can go from temporary to permanent. Threats start to work their way back into language.
Let's take a page from what we know about kids. When kids pretend they develop important life skills. Pretend to be the teacher you want to be, you will get there eventually.
Be Reasonable
Let's extend the olive branch of reason to everyone in our community. Be reasonable with your kids. School is a weird place with new rules and lots of people and sometimes itchy clothes and loud noises and new hormones and uncomfortable seats. Even on its best day, school is not perfect for every child in every way. Have compassion for the kids in your care. Cultivate understanding of all the unique and challenging issues children encounter. It is not easy to be a kid. Be more responsive and less reactive.
Be reasonable with yourself. School is a weird place with rules and lots of people and sometimes itchy clothes and loud noises and no bathroom breaks and shortened lunches and meetings. Have compassion for yourself and your colleagues. Work to be your best self, when you fall short, be forgiving and then work on it.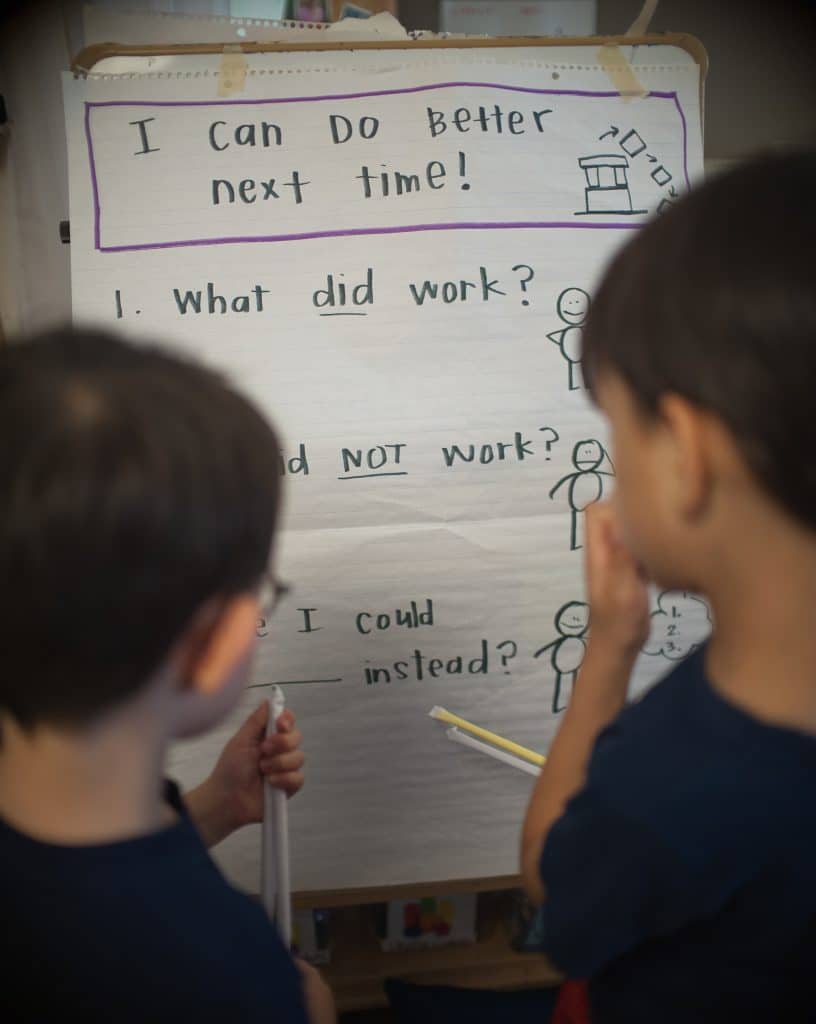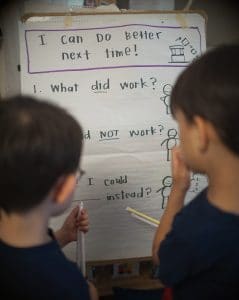 Essential Take-Aways
Get your belief statement sorted out. Hold yourself accountable to it.

Reflect on how your decisions reflect (or fall short) of your belief system every day.

Be skeptical of things that are just rewards and punishment in disguise.

Cultivate compassion.
One last big idea: Try to never take away recess or play times.  Kids need this more than they need just about anything else in school. There are better ways to help kids learn to navigate school and life more successfully.  
Does this mean we never talk seriously and meaningfully with kids about what happens when they act in certain ways? Of course not! Does this mean that children never have a consequence of an action? Of course not! In the next post, now that we're firmly grounded in a belief system and reflective practice, we'll show you three classroom practices that you can introduce in the first week of school and use all year long to help children feel safe, valued, and capable.