05 Feb

One Classroom, Many Goals

Lately in my coaching work, the conversation has circled to supporting students with special needs within the reading and writing workshop. The wonder and the difficulty of workshop teaching is the ability to differentiate within any day. It is amazing. It is daunting. Let's buckle up and talk some practical tips for managing many goals within one classroom.

First, remember workshop teaching is a structure, not a curriculum.

Workshop teaching outlines your time, not your teaching. Often workshop teaching and units of study are used interchangeably, when instead one fits inside the other. Think of workshop teaching as a piece of tupperware, it can contain multitudes, the contents of the tupperware are our curricular choices. These are the elements that make something workshop teaching:
Focus Lesson at the start
Independent Practice takes up the bulk of the time
Reflective Share at the end
What you do inside these structures depends a lot on what your kiddos need.
Second, separate programs from practices.
One thing that has often frustrated me as a special education teacher is that more often that not when you look for support it comes in the form of someone trying to sell you a program, instead of teaching practices that work across the day. This is not to say there isn't a way to integrate specific programs into a child's independent practice during reading or writing workshop, but rather that one question we want to ask is what are the instructional practices any particular child needs to gain access to the curriculum. Some examples of generalizable practices are:
spaced practice (learning something in smaller chunks over a longer time)
task analysis (breaking complex skills down into smaller steps)
multi-modal learning (integrating movement, visuals, tactile experiences into teaching)
small group instruction
Third, know your goals.
One of the hardest juggling acts as a workshop teacher is to know who is working towards what. Add in the goals from a child's individualized education plan (IEP) and it is hard to know how to handle all the pieces of information. A snippet of a whole class conferring sheet I have used to focus my own instruction looks something like this (you can find a blank here if its helpful):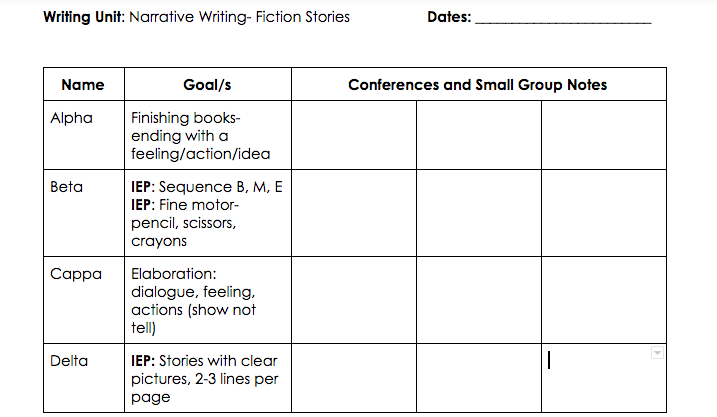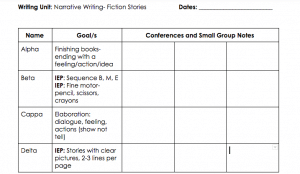 Remember goals may also not have anything to do with content. I often quote a math consultant I worked with, Ryan Dunn, who taught me that each lesson should have a social goal, a language goal, and a content goal. This is helpful to keep in mind in knowing that I may not work on a writing goal within a writing workshop, I might work on a social goal using our writing partner time.


Here is the mental equation I do: what instructional practices should I use within the workshop structure to help children reach their goals?
Some examples:
Focus Lesson:
Within a focus lesson, I may be supporting my different learners in ways that also support the rest of the students. Things like visuals, repeating big ideas to a partner, acting out important parts provide a needed scaffold for some children and valuable reinforcement for others. The key is that I have my eyes on different aspects for different children. The big point of a lesson might be something like planning out your book before you start writing, but my eyes might be on a few different things:
Child A might be working on stamina for sitting with the community, success for this child is staying on or near the rug for 8 of the 10 minutes and is seated by the edge where she can move from the rug to a yoga ball and back again
Child B might need the scaffold of a visuals to understand verbal directions, this child is seated up front and in charge of pointing to each part of the chart
To engage child C, I have chosen to write a fiction book involving his favorite topic: vacuum cleaners
Listen, truth talk. I planned the lesson because it would be helpful to 75% of the children. When I teach the lesson, my eyes might be focused on 3 or 4 kiddos. This isn't true for every lesson, but its true for some.
Independent Work Time
Kathryn Cazes changed everything I understand about the world of independent work time when she taught me about schedules. You can read about her thinking in detail and see lots of examples and photos here. In summary, everyone doesn't have to do the same thing in independent work time. Children don't even need to spend their time the same way in independent work time. I used to send everyone off to work on their writing and their reading and think the differentiation was in the materials, but Kat taught there is so much more we can do: we can differentiate time amounts, we can differentiate skills we practice, we can differentiate size of groupings.
Looking back on Beta, the child on the goals sheet above, her schedule of work time in writing workshop might go something like:
10 minutes : Sequence photographs/clip art for story
10 minutes: Fine motor break: putty, tweezers, beads
10 minutes: Write words to story
If a timer is an iffy proposition, then it could also be by task completion, something like this:
Job 1: sequence 3 photos and glue on writing paper
Job 2:  Bead one necklace, find all the letters in the putty
Job 3:  Write words to go with each picture in your story
In reading workshop it could be a child is working on sight word game on an iPad to meet a goal around word recognition, then moving to listening to a book on tape, then meeting with a teacher for direct instruction around phonics in a small group of children who require the same phonics program, and then finally spending the last bend of time reading from a book baggy with a partner. Maybe part of the child's reading baggy is social stories they have read again and again as part of their social learning.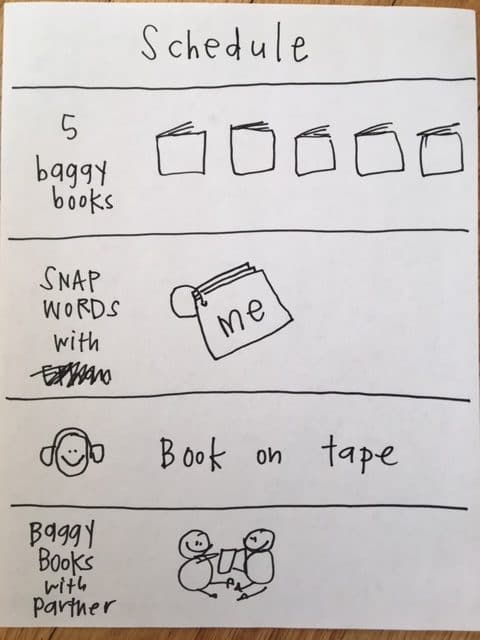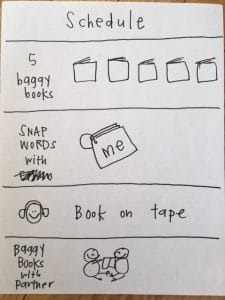 It can feel like a lot to manage, the same way cooking a meal the size of Thanksgiving can feel daunting- multiple timers, multiple cooking temperatures, not enough space… but you manage it just like you do for that meal: plan, prepare what you can in advance, and then stay focused. Once you build a schedule for a child, and work towards independence with the child, you actually ease your work load. You know the child is engaging in work essential to their growth towards goals in a way that is appropriate for that child's learning style and temperament. Gone are the days of constantly moving children away from each other for focus, or spending the last 20 minutes in a constant state of redirection. Instead you have adapted the structure to fit the child, and not forced the child into the structure.
In no way shape, form, or universe am I suggesting this is easy, but it does get easier. In my last year as a classroom teacher, the oh so distant 2017, I was teaching kindergarten. Within my classroom I had 4 kids on specialized schedules for reading or writing workshop. Teaching the children the schedules took a little less than a week. The children had bins and timers, visual schedules, and practice. These four children had been on my mind and had basically no choice but to distract others because I wasn't using their time well. I was filling their time. Once I made the commitment and shifted each child into a personalized schedule, everything ran smoother.
How do you make it work? Put thoughts and questions in the comments below!