13 Nov

Jamboard is my Emergent Reading Virtual Lifeboat

Unlike Rose with Jack, there is plenty of room on this lifeboat for all of us.

Let's talk about our youngest readers.

Jamboard and Storytelling

Okay, first things first, I am kind of old. Fine. But because I am old, I remember with great joy, using a feltboard with my kiddos to retell stories and also as a source of storytelling. Jamboard works… even better?

If you do not know what felt boards are, its a pretty straightforward tool. You had a felt board, and felt characters, and they stuck together. You could move the felt characters around to tell stories and retell books. The con was the felt cut outs were kind of meh, and there were limited options.

In Jamboard, you can use google search to grab the images you want, and then as you story tell, you can easily manipulate them around. We have done it to retell: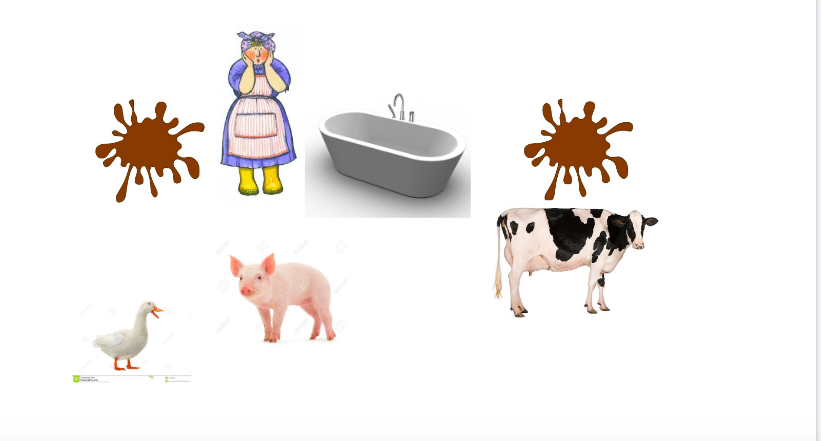 Many of you might recognize the venerable Ms. Wishy Washy in the center. The mud, the bath, and the animals are all google image search results, as is Ms. Wishy Washy. First we sequenced the order of the setting (mud-bath-mud), then we moved the animals as we retold the story.
Even, better, we've used this same basic premise as a way to build our own stories. We figure out who the characters are and then do a google search in jamboard for them. Then we figure out where our story will be, and either draw it in or do a google image search for it. Finally,  we move the characters around as we tell the story. Here is a screengrab of a spiderman storyboard: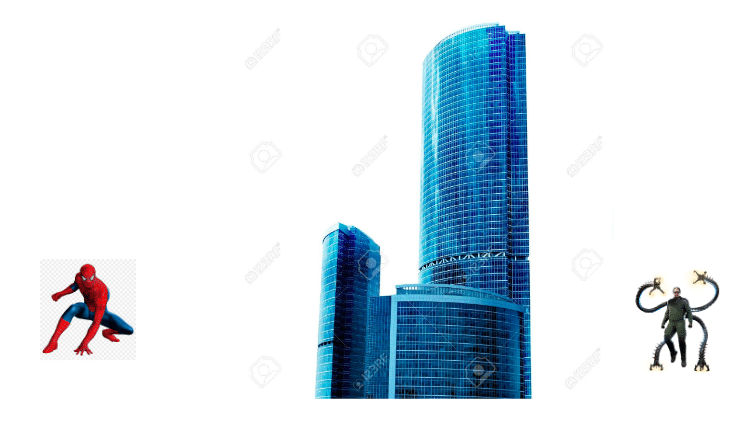 We found the characters, made the setting and moved the characters around as we told the story of the epic battle. We then used this as a springboard to label in interactive writing, write a story together, and build our language. You can also use photos of your kiddos and photos of places in the neighborhood in your storyboard.
IMPORTANT:
Google image search is FILLED with implicit bias. Just type in the word "Family" and see what happens. It's… not great. It's been worthwhile to anticipate this and see it as a place to engage in big conversations, "Wait a second, these families all kind of look the same. We know from our books that families don't all look like this, what's going on?" If we use google image search in the presence of our kids, its our responsibility to notice and name its inherent bias, and question it with our students.
IMPORTANT NOTE 2:
Use discretion in search terms, it works just like google and you might pull up something NSFW.
*** This also works great for older kids to also play out their narratives before they write them.
Jamboard and HF Words in Context
A reading recovery teacher I deeply admire (Hi Trina!) taught me about how we can have kids read HF words in isolation, then match those words in context. It  has been part of my brick and mortar shared reading for years now, but jamboard makes it so easy virtually. I have been putting my books onto jamboard (using the app on my phone has made it VERY easy. Just open the app on your phone and use the camera function to drop it right in). Then using the post-it function I have placed the HF words to the side on different colored post-its. First we read the HF words, then we find them in the text and drag the post it over to cover it: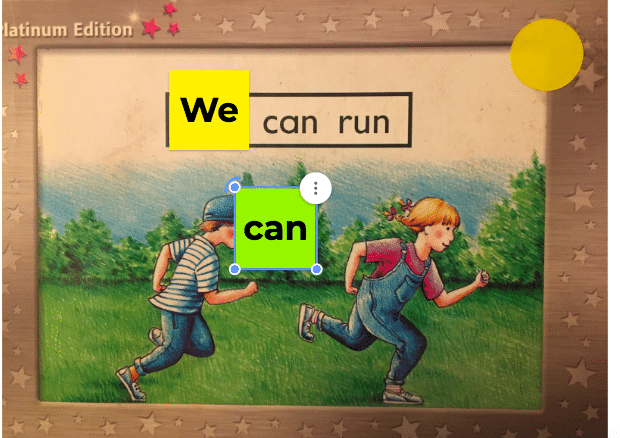 If you share the jamboard with kids, they can drag them, but I engage in a little faux-interactivity so everyone can participate. It goes like this:
I share my screen. I ask:
"What word is on the GREEN post-it?" (Kids say "can")
"Point to the word can in the book, can you find it?" (I see fingers flying)
"What letters are we looking for?" (C-A-N)
"Put your finger on the green post-it and help me drag it to cover the word!" (Kids "drag" it on their screen, but really I am just pulling it over with my mouse)
Jamboard and Interactive Writing
I could write a 20,000 word blog post on this topic alone, but who has the time. Here is the abbreviated version: Jamboard is awesome for interactive writing. If you know the book above, you know it has the pattern, "We can ____," said the children." When we finished reading the book, we opted to make our own page that followed the pattern. We decided on a verb. Acted it out so I could get a screenshot. (pictures are blocked by white circles) Wrote the sentence. Voila: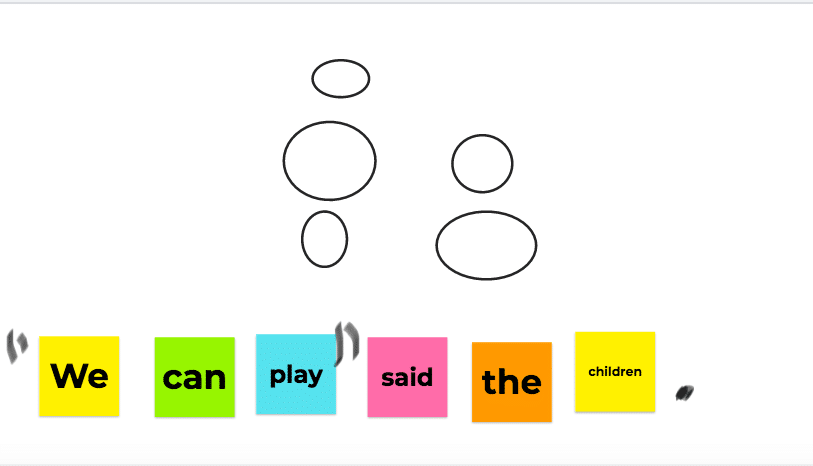 We placed it right in the book, so now when we reread it, we have our page to read too. I love using the post-its to make the words because we can also work on letter v. word, and I *always* mix up all the words after I type them BY ACCIDENT (thats a lie, I do it on purpose, I am just tricky) so the kids have to help me get them back in order. That sounds like this:
"Oh my gosh! I mixed them up when I moved them! Oh no! Can you help me get them all back in order?! What was our first words?" (Kids say "we")
"What color is we on?" (yellow)
"OH NO, there are TWO yellows! Which one?! Which one?!" (the one with the W)
"Can you put your finger on it and help me drag into the spot where the first word goes?!
_________________
Alright all, that's it. Hope this helps! Add any thoughts, feedback or questions in the comments. I am always very happy to get to feedback and very happy to share widely. If your district is on the hunt for PD, I am also always very happy to do that too 🙂